Fraser
Veterinary Services
Dr. Fraser looks forward to sharing the principles of integrative/holistic veterinary medicine with you as we work together to give our special dogs and cats the balanced, ideal lives they deserve.
| | |
| --- | --- |
| Monday, Wednesday, Friday | 9:00am – 4:00pm |
| Tuesday, Thursday | 9:00am – 11:30am |
SERVICES
Fraser Veterinary Services is a mobile practice providing individualized, complementary veterinary care for dogs and cats focusing on the principles of Traditional Chinese Veterinary Medicine.
Service Area
Appointments are available within a 45 minute drive from Parkville, MD. This includes Harford and Baltimore Counties as well as Baltimore City.
Shop
There are so many amazing supplements and products that I use on my own pets. I'm so happy to be able to offer some of them here!
Order a Refill
Refills are available for patients with a previous prescription. I will be in touch when your order is ready. Please allow up to one week.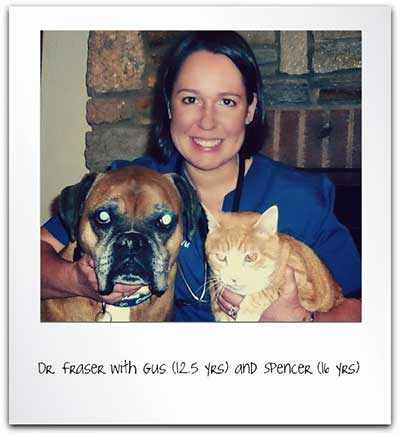 ABOUT DR. FRASER
Dr. Fraser grew up in the small town of Winterport, Maine. She attended Elon College in North Carolina for her undergraduate studies in Biology. It wasn't until her third year of college that she realized veterinary medicine was a much better fit for her than human medicine. In preparation for vet school, Dr. Fraser spent a year in Maine working in a mixed animal practice and then 2 years at UNC Chapel Hill working in neuroscience research. It was here that she met her husband, Randal.